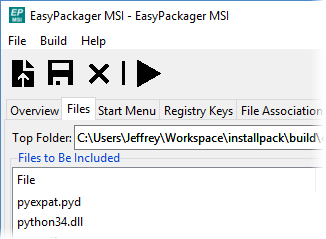 Version 1.3.0 - 23 January 2018
EasyPackager now includes a simple toolbar for quick access to common functions. A bug with the generated MSI file not properly writing an InstallLocation registry key has been corrected. The timestamp URL field in the code signing configuration window now remains editable if the "Allow Windows to select..." option is checked.
Generated installers have been successfully tested with the Windows App Certification Kit under Windows 10 with the Creators Update installed.
Available now on the Download page.
---
Version 1.2.0 - 3 January 2016
EasyPackager now supports the selection of JPEG and Portable Network Graphics files for welcome and banner images. Plain text license files properly display in constructed installers. Buttons have been added to allow for editing and viewing the license file or installer images respectively. A file issue with included welcome and banner images has been corrected. Windows Explorer can now be opened from the Files tab, and the Refresh button has been appropriately relocated.
Available now on the Download page.
---